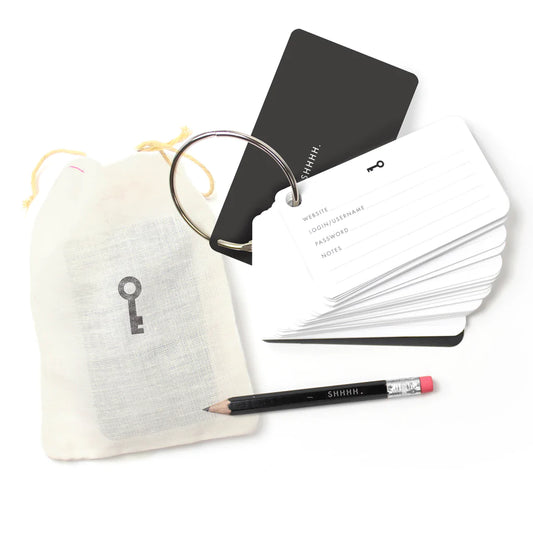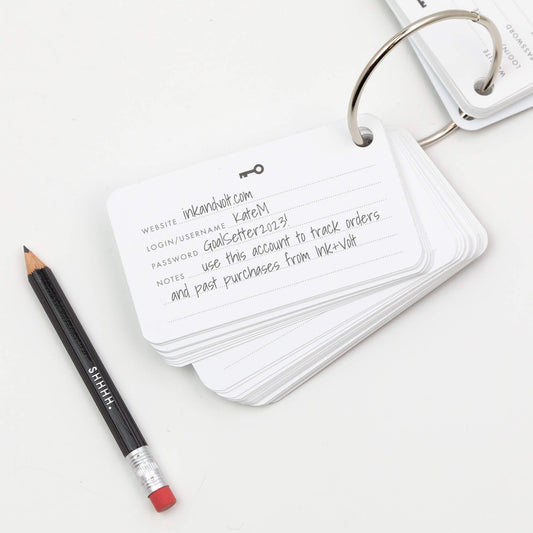 The Password Keeper
Description

Avoid hitting that "Forgot Password" reset with Password Keeper that will act as your online sidekick for all of your accounts! Noting your online credentials, this perfect desk accessory that will make the dreaded task of signing in a breeze without having to save your login information- which puts your accounts at increased risk for compromise.

With 48 double-sided cards, a cotton drawstring bag, and a foil-printed mini pencil, the Password Keeper makes a great add-on gift and shows you care about the security of the recipient.
Product Specs

48 Double-Sided Cards on a Ring

Includes Cards, Mini Pencil, and Hand-stamped Cotton Drawstring Bag

14 PT Sustainably Sourced Card Stock

Made in the USA
Why We Love It
Add a level of security with your online accounts with a tool designed to make forgetting your credentials a thing in the past. As we are constantly creating new passwords to get a step ahead of online compromises, it is very easy and common to forget which password is used for which account. We were excited to discover The Password Keeper as it heightens our level of security by allowing us to declining save our passwords and removing the anxiety revolved around resetting forgotten credentials.