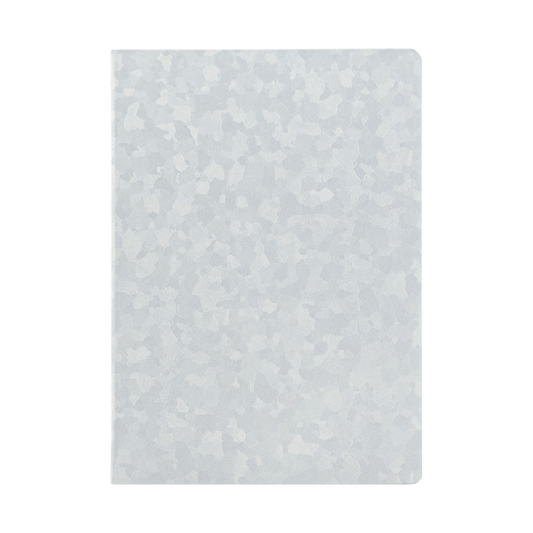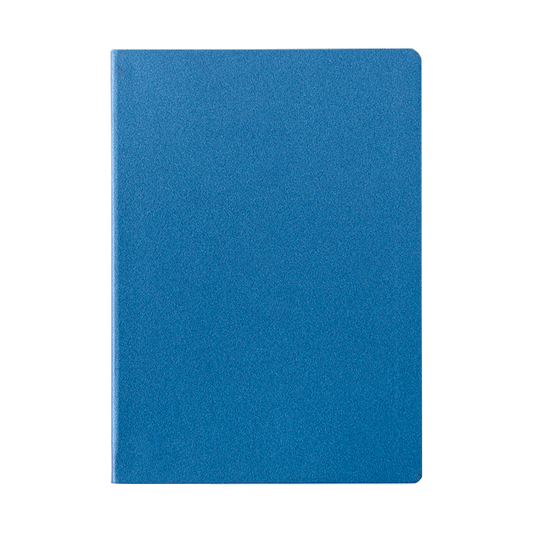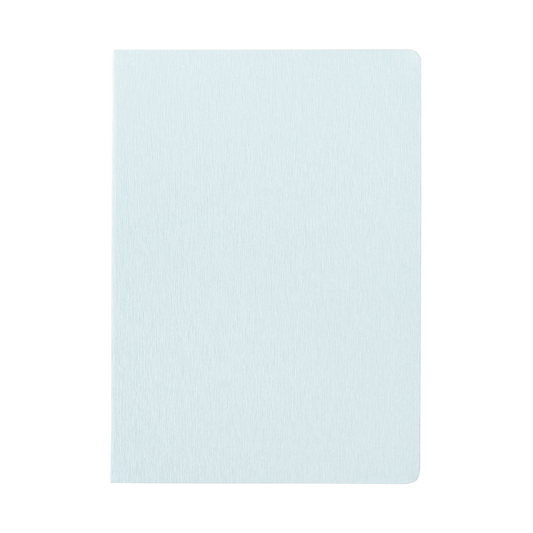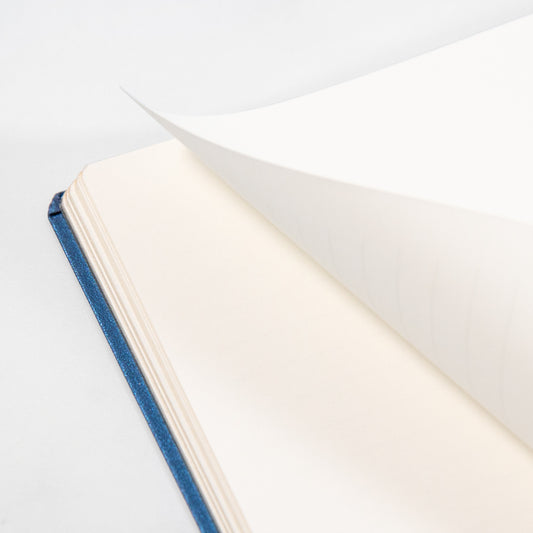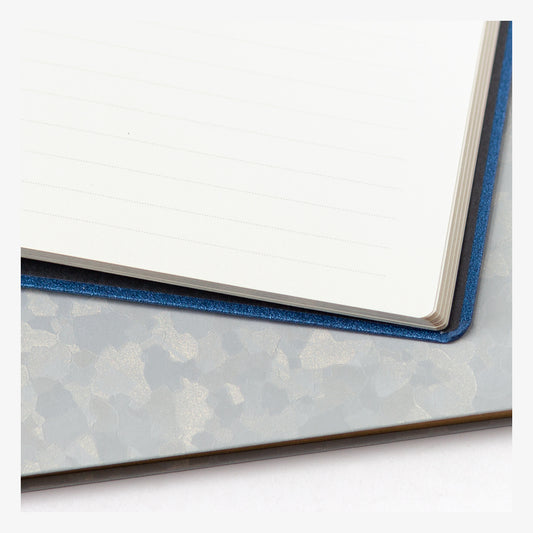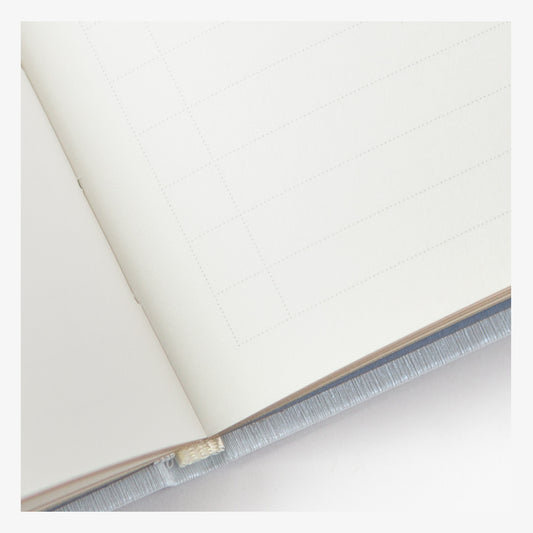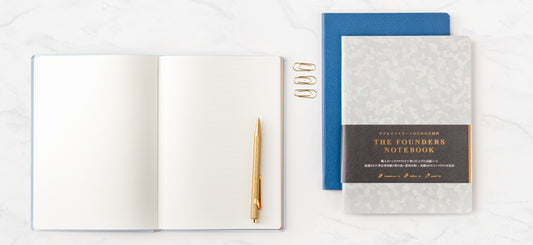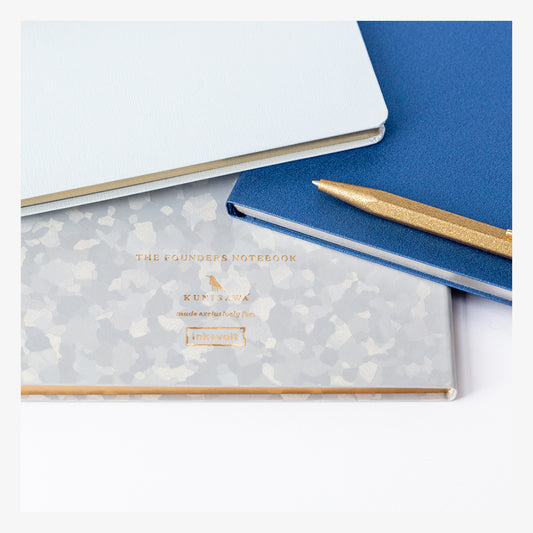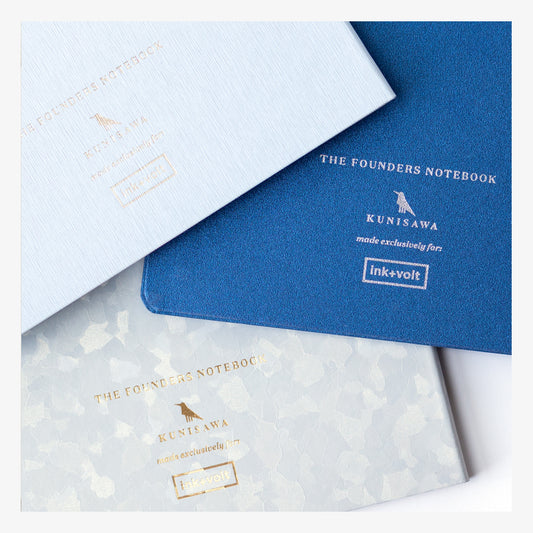 "For me, I think these are a beautiful addition to the notebook market." —Well Appointed Desk
The Founders Notebook
Just a few left. Order soon.
Description

You are going places, and this notebook was made to go with you. Introducing the Founders Notebook, a truly unique and exclusive piece by Ink+Volt and Kunisawa.

The Founders Notebook is where professionalism meets style. Designed to become an essential in your professional toolkit, this notebook is perfect for the frequent traveler, the busy freelancer, the ambitious creative, and the career-driven leader.

The exquisite craftsmanship of Japanese stationery is evident in every aspect of this special book, thanks to our partnership with Kunisawa, a letterpress and printing company located in the heart of Tokyo.

The concept was inspired by Ink+Volt's founder Kate. She loves our planner but with her busy travel schedule, she wanted a notebook that was lightweight that she could carry everywhere for journaling, taking notes, and easily throw into a handbag or carry-on. 

Each detail was chosen with great care and diligence. This notebook is thoughtfully-sized and crafted with materials that ensure it is lightweight and travel-friendly, without sacrificing an ounce of style or substance. We chose smooth, natural white paper to remind you that each day is a fresh start. There's nothing more luxurious and refreshing than a clean sheet of paper. 

You'll also find a unique lined page pattern that is ideal for note-taking (and bullet journaling!). Also, the lines are printed on one side of each page, so you can use the other side for mind-mapping, brainstorming, sketching, or planning your next big thing. The possibilities are limitless.

Notably, we chose the truly special cover materials that catch the eye - they are all metallic and are as durable as they are beautiful. Perhaps the best part is that even though these notebooks stand out, they are subtle and sophisticated in a way that makes everyone ask us where we bought the notebook. This is going to be the notebook everyone is going to ask you about – trust us.

Tested and approved by The Well-Appointed Desk – read the full review here.

Be sure to check out our other collaborative masterpiece, the Executive Notebook.

For more exquisite and modern Japanese stationery, explore our full Kunisawa selection.
Product Specs

Offical A5 size

112 pages

Metallic gilt edge foiling

Lined note pattern

81gsm paper

Foolscap paper

Hardcover book

Lay flat binding

1 ribbon bookmark

Designed in US, Made in Japan
Why We Love It
Making a great impression is important, and so is high quality work.

Computers and phones are distracting, and notepads aren't very durable and travel-friendly. When it comes to big meetings, one-on-ones, and interviews, a great notebook is more than just a bunch of pages. This is what inspired the Founders Notebook, designed to be a classy, luxurious, and dependable notebook that can go with you anywhere. With amazing paper that holds up to everything from gel pens to fountain pens, and unique covers inspired by the stars and sky, you'll not only make a great impression, but you'll be equipped for success.

We created the Founders Notebook in collaboration with Kunisawa, a luxury Japanese stationery brand. When you hold the Founders Notebook in your hands, you will feel that you have something very special indeed.

Designed for success, this notebook will complement every meeting, from the coffee shop to the boardroom. It's durable, sophisticated, and incredibly luxurious — perfect for travel or work. Make a great impression. Make today awesome. The future is yours.