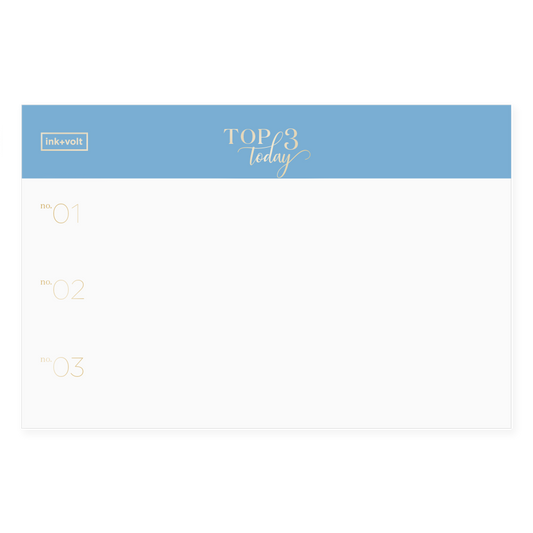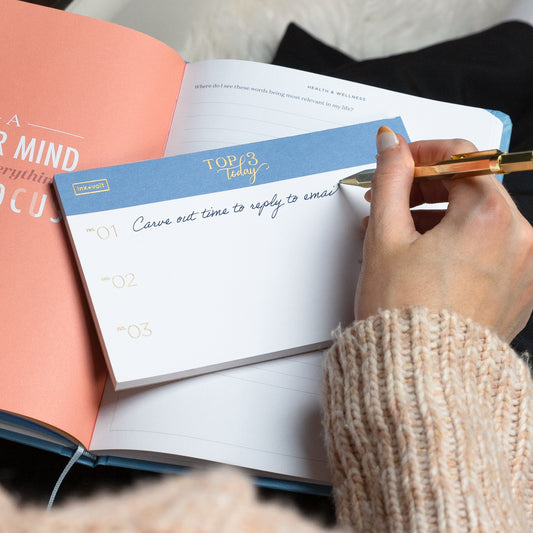 "The Top 3 Today notepad is my favorite because it is simple and doesn't have as many fields." —Lisa
Top 3 Today Notepad
Description

The most powerful productivity systems aren't complicated; they're simple. They work. They start with writing down just 3 things.

Between emails, morning meetings, and actual work, it is easy to get sucked into the hustle and bustle of the day right away. The Ink+Volt Top 3 Today Notepad is designed to help you start your day focused on the things that are truly important. These top 3 items set the tone and the drive for you to keep building on what is important to you.

The Top 3 Today Notepad will become part of your morning ritual. Whether it's after that first cup of coffee, or perhaps even the minute you wake up, this beautifully designed pad is always ready for you. This disarmingly simple practice will set your day in motion with the most important things front and center. 

Proudly made in the USA.
Product Specs

6 1/2" x 4 1/4"

50 sheets

70# quality paper

Made in the USA
The Story
The Top 3 Today Notepad is all about simplicity, purpose, and success. Who do you want to be? What do you want to accomplish? What drives you? As you ponder these questions, your top priorities will come into focus. Your Top 3 pad is there to capture and display the day's most important tasks to be accomplished.