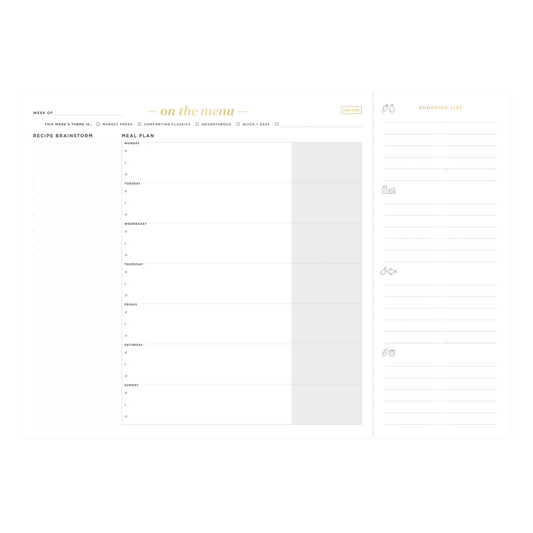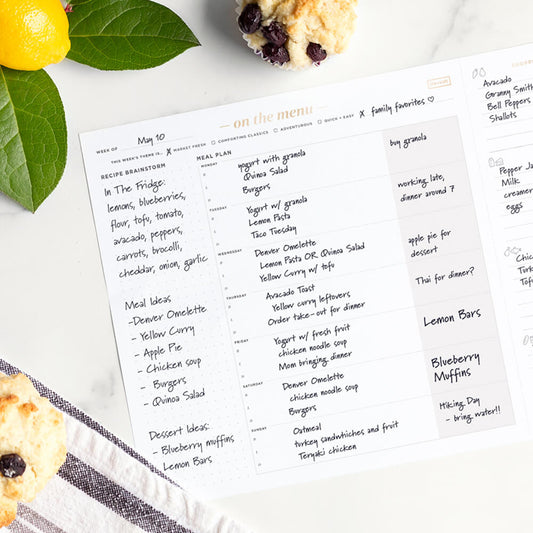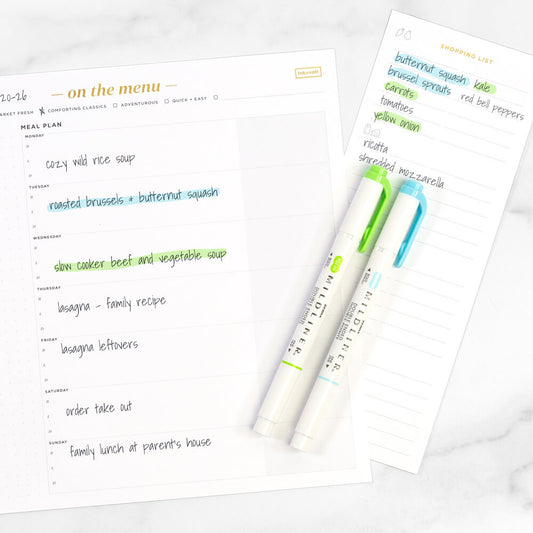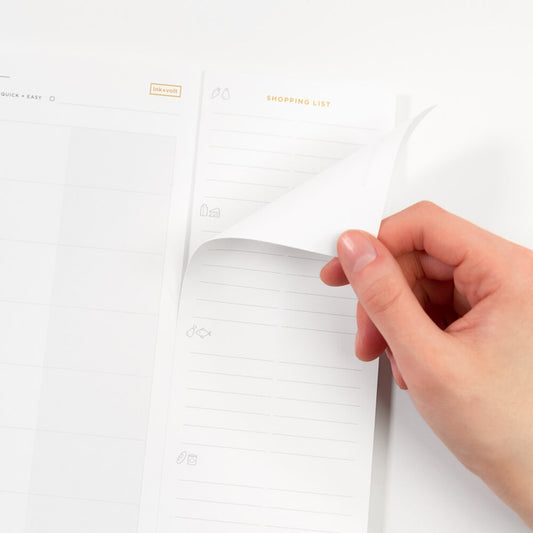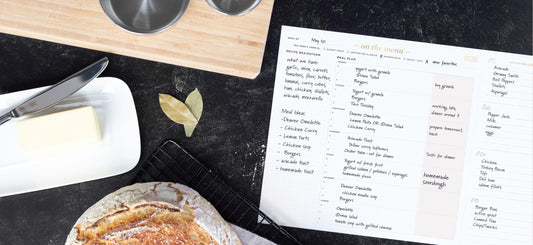 Meal Planning Pad
Description

Wouldn't it be nice to have all of your meals for the week figured out ahead of time? 


 Whether it's feeding your family, starting a new diet, or getting creative in the kitchen, the Ink+Volt Meal Planning Pad has everything you need to get breakfast, lunch, and dinner on the table. Maximize the time you have in your busy schedule to cook fresh meals from scratch, explore new recipes, and more. 

When you spend a little time each week meal planning, you're benefitting in so many ways. Home-cooked meals tend to be healthier and better quality than take-out or processed foods. Planning makes grocery shopping faster, more purposeful, and more organized, meaning more free time and less food waste. Most of all, you'll avoid the everyday stress of wondering "what's for dinner?".

Use the Recipe Brainstorm to gather new ideas from cookbooks, online inspiration, or tried-and-true recipes; then plot your recipes into your weekly plan and outline your shopping. Thanks to the convenient perforation, you can tear your list off whenever you're ready to go to the store. 

With 52 sheets, you've got a meal plan for each week of the year. Proudly made in the USA. 
Product Specs

A4 size

52 sheets

Perforated shopping list

70# quality paper

Incredibly functional

Gold foil detailing

Made in USA
The Story
Between work, family, and personal obligations, meals often become an afterthought. To be at your best, it's important to take the time to eat — and eat well. Take the stress and guesswork out of your week when it comes to mealtime. With a proper meal plan, there's one less thing to worry about, and you will thank yourself for doing some planning ahead of time! We've tested several versions of this meal planner here at Ink+Volt, and whether it's getting dinner on the table on time for your family or wasting fewer ingredients in the kitchen, this meal planning pad is perfect for everybody who needs to eat.