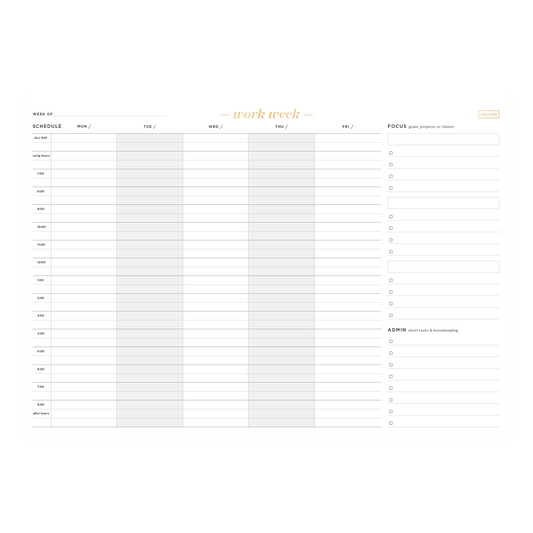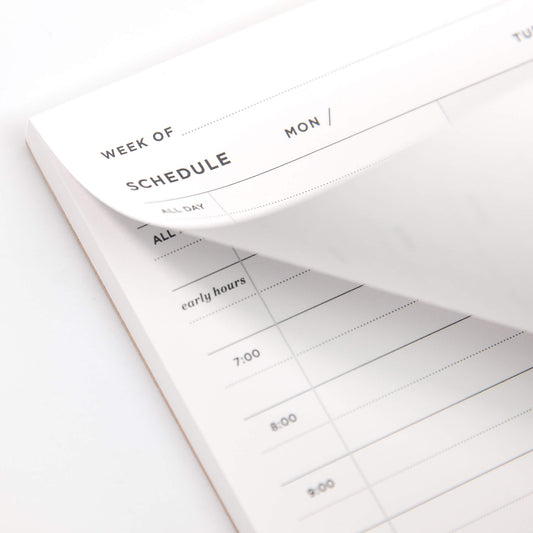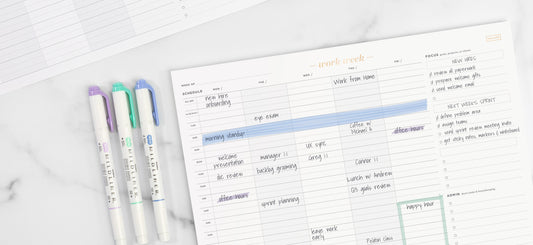 Work Week Deskpad
Description

Plan your weekdays with focus and intention with this hourly scheduler. 


Between work, appointments, social engagements, and family obligations, a week can be fast and furious. The Ink+Volt Work Week Deskpad is great for appointment-based jobs like real estate, personal training, photography, and even for students and teachers. Plan hour by hour from the early morning to late at night with this flexible pad. Keep track of project to-dos and administrative work on the side.  Leave it at your desk and start each week with a fresh sheet and your supercharged schedule. 

Power through your work week with this luxurious and functional daily hourly planner deskpad – with 52 sheets, you're set for an entire year.

Proudly made in the USA. 

Product Specs

A4 size

52 sheets

70# quality paper

Incredibly functional

Gold foil detailing

Made in USA
The Story
Sometimes digital calendars just don't cut it. If you're looking for a clean and powerful weekly timetable, the Work Week deskpad is just for you. With 15 hourly blocks for each traditional work day, this is a great tool for planning meetings, appointments, personal routines, and more. Make it your own with a customized schedule, highlighters, and more.