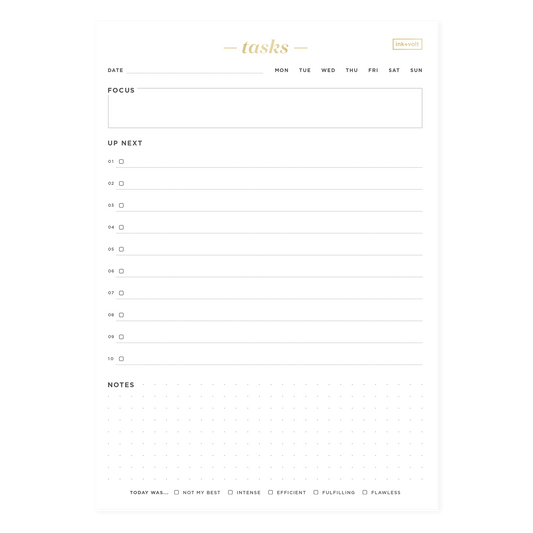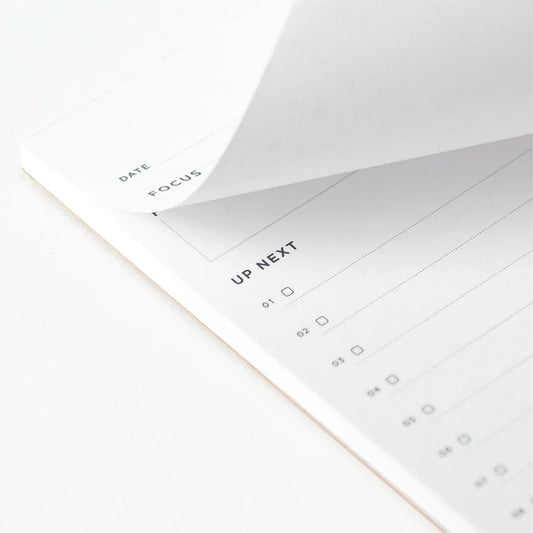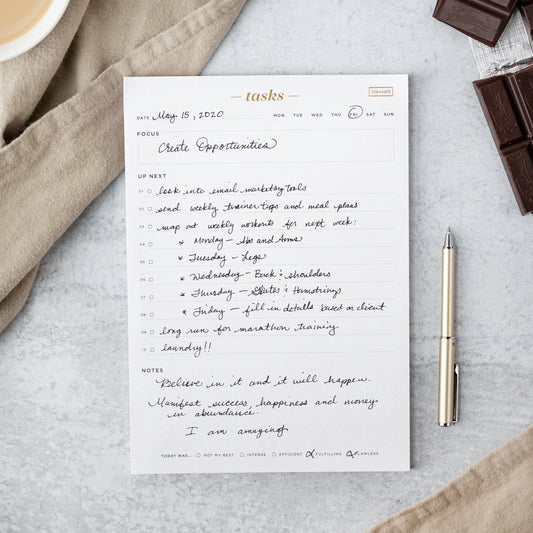 "I love the daily task pad and use it, well, daily." —Josh M.
Daily Task Pad
Description

"Don't count the days. Make the days count." This brilliant quote, by Muhammad Ali, is the perfect summary of what the Ink+Volt Daily Task Pad is all about.

We designed this task pad to help you start your day on the right foot and make the most of what's coming. Keep your everyday hustle productive and never lose sight of the bigger picture.

We've designed this task pad to suit your needs as much as possible. The pages are without dates–simply circle or highlight the day of the week at the top and write in the date. The pad comes with 50 pages of our favorite super smooth, bright white 70# paper that we use in the Ink+Volt planners, and is proudly made in the USA. 

Your days aren't just about appointments, deadlines and events. They're about getting things done that will move the needle on your goals and the things you set out to accomplish. We've left plenty of space at the bottom of the pad for notes and reminders, maybe some words of self-encouragement. Set your "Focus" for the day with the most important task or tasks that need to get done, and list everything else in a nice stack like a traditional to-do list.

Proudly made in the USA. 
Product Specs

5 3/4" x 8 1/2"

50 sheets

70# quality paper

Incredibly functional

Made in USA
The Story
When you wake up in the morning, the day ahead is full of things you need to get done. We wanted to create not only a place for those tasks to live, but a tool that will really help you get the most out of your day.

We love this task pad. In fact, we personally tested out several versions of this task pad. For several weeks, we would print them out as individual sheets and use them ourselves until we finally felt that the format was right. Because if we don't love it, we can't expect you to love it too.