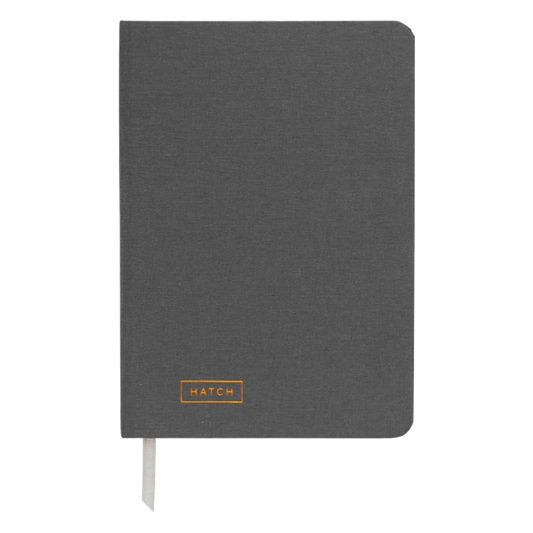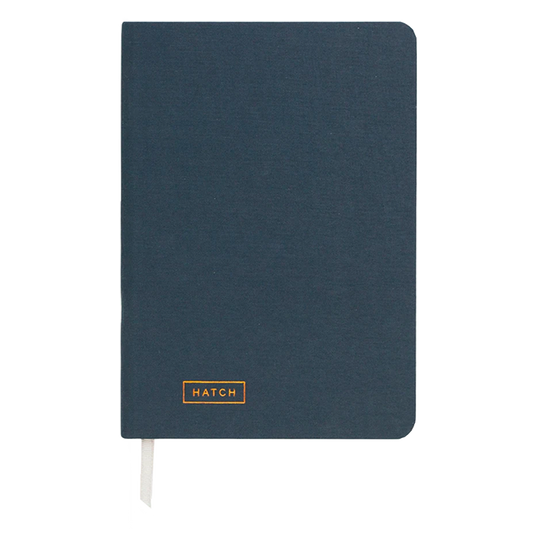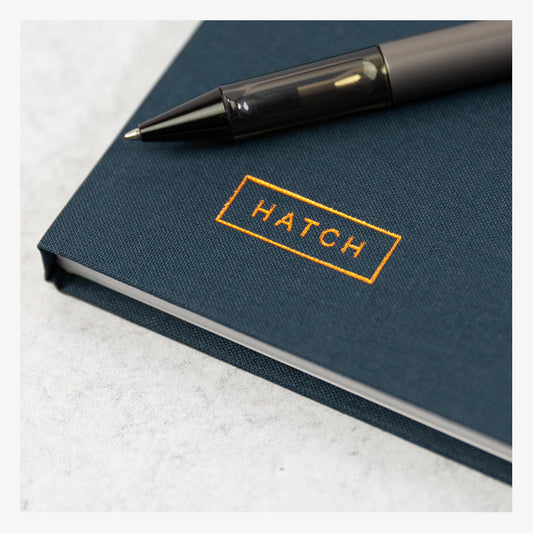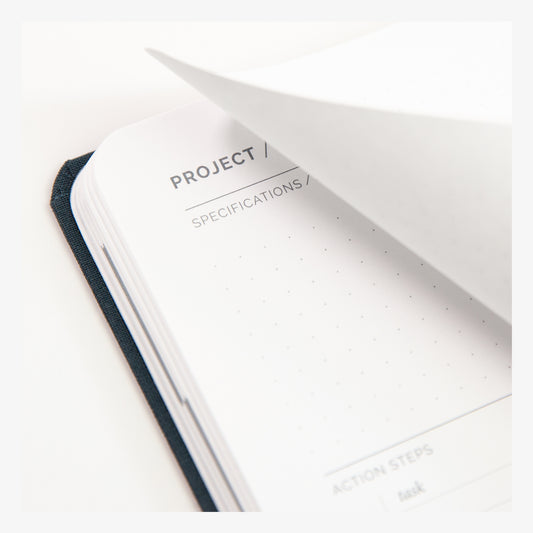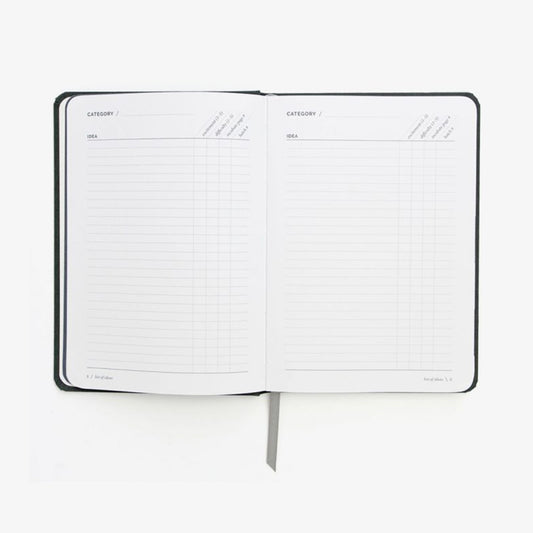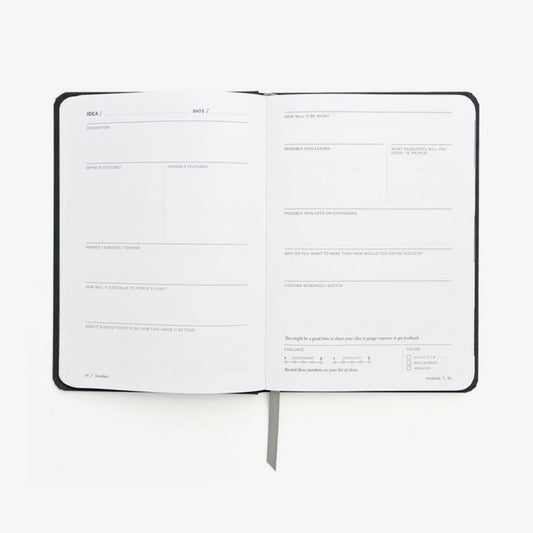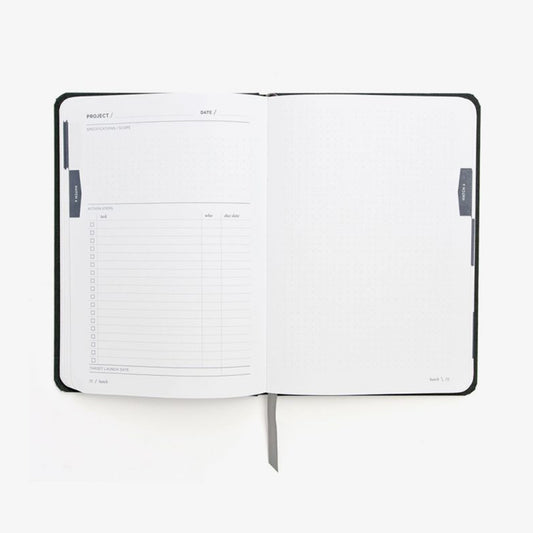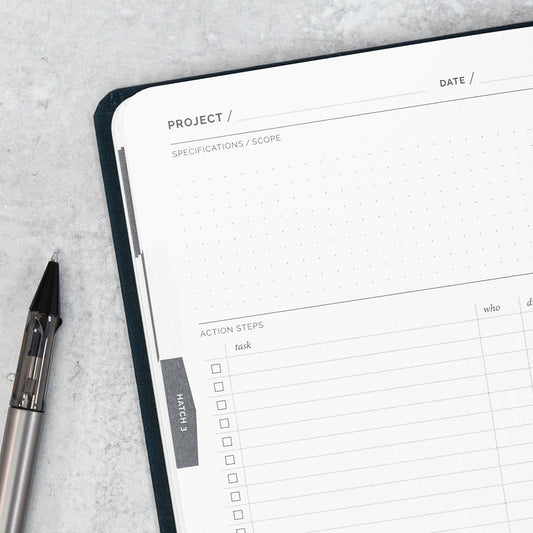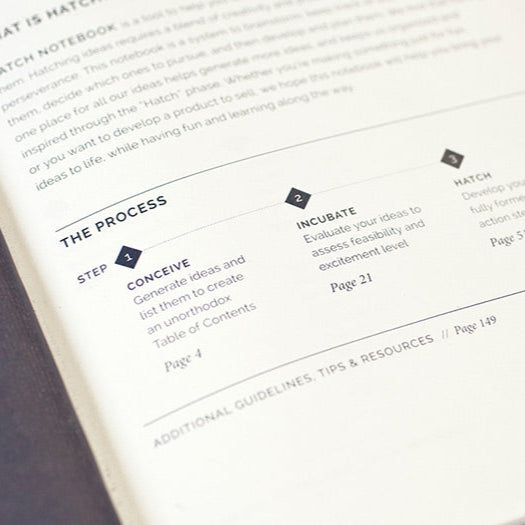 Hatch Notebook
Description

Take that entrepreneurial spirit and let it shine. 

The Hatch Notebook helps you turn ideas into reality. This notebook is a system to brainstorm, keep track of your ideas, evaluate their merits, decide which ones to pursue, and then plan and execute. The Hatch Notebook includes 3 sections: Conceive, Incubate, and Hatch. Each section helps break down your grand ideas into realistic pieces and action items. Preview the Hatch Notebook to see what all is inside. 

The Hatch Notebook is hard-bound with a book cloth cover in two color options of slate gray and midnight blue. Made in the USA. 
Product Specs

5 3/4" x 8 1/4"

160 pages

Hard bound and flexible

One ribbon bookmark

Lay flat binding

Made in the USA
Why We Love It
A beautifully designed and smart notebook to guide ambitious, entrepreneurial, creative minds. Here at Ink+Volt, we are all about turning dreams into reality. The Hatch Notebook is genius--if you're always coming up with great ideas, big or small, and need some help executing them, you will be amazed how much you can accomplish with the Hatch Notebook. Use it in tandem with your Ink+Volt Planner to set timely goals and progress, and you are bound for great things. 

There are 3 main sections in the Hatch Notebook:
Conceive
Generate and organize your ideas into an unorthodox table of contents–your List of Ideas. Includes 4 list pages plus 16 dot-grid pages.

Incubate
Evaluate your ideas for feasibility and personal excitement level. Includes 12 spreads with evaluation questions.

Hatch
Develop an idea into a fully formed concept, plan action steps, and execute. Includes 5 project sub-sections, with 1-page action plan, and 17 dot-grid pages.