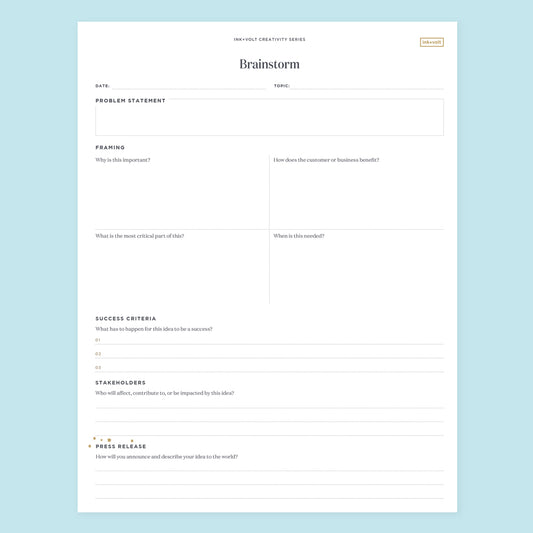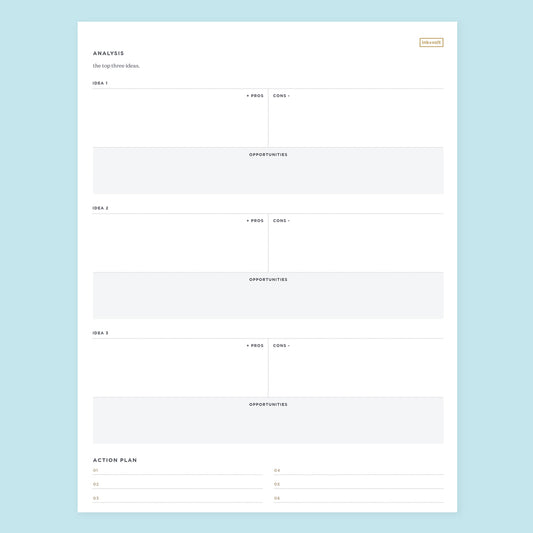 Ink+Volt Brainstorming Digital Worksheet
Description

You are full of great ideas. We've created this Brainstorming Digital Worksheet to help extract these amazing ideas and turn it into action. 

Brainstorming is the process that captures everything from your wild, outside-of-the-box thoughts to your more conservative, pragmatic ideas. Everything is fair game in the process of brainstorming. Great ideas result in great success.

We created the Ink+Volt Brainstorming Worksheet to help you develop innovative thinking on both an individual and collaborative level. This printable offers a process-based approach to brainstorming. It will walk you through three key components of brainstorming: 

Identify and frame the problem
Generate ideas and possibilities 
Analyze the best ideas and make an action plan 

This worksheet is based on our extensive research on brainstorming and techniques employed at major companies. Print it for your team, or use it for your next solo brainstorm session. 

After purchase, you will receive a PDF download link. 
The Story
You have brilliant ideas - let's turn them into your brilliant reality! Give structure to your brainstorming sessions and help your collaborators work more effectively together. We love it when a plan comes together.