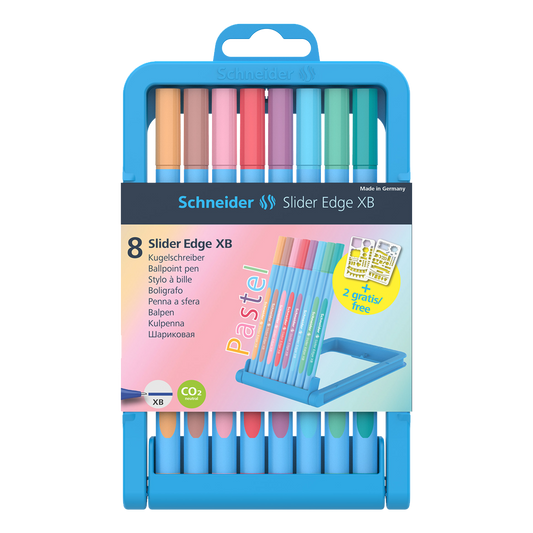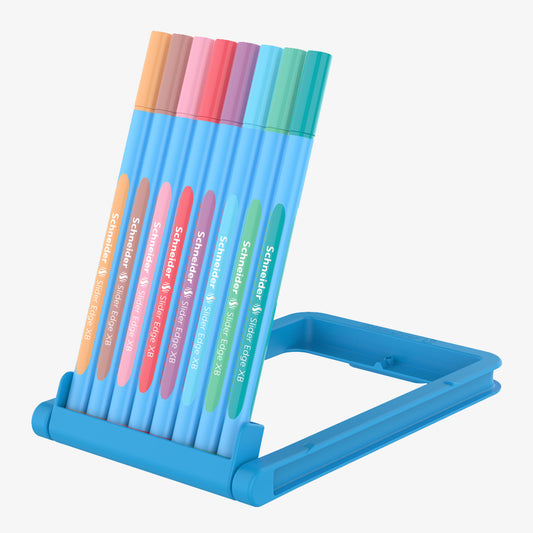 Schneider Slider Edge XB Ballpoint Pen Pastel 8-Pack
Description

Designed for people who like to write, the Schneider Slider Edge Ballpoint Pens are smooth, comfortable, and conveniently packaged. The ergonomic shape fits nicely in your hand – which is perfect if you are working on your next novel, or even just taking notes in a meeting. Each pen has this amazing Viscoglide® ink, so they are incredibly smooth and easy to write with. And this 8-pack, stashed in a handy easel stand, has plenty of pretty pastel colors for expressing all of your great ideas.

These Slider Edge XB ballpoint pens write smooth and seamlessly. The XB stands for "extra broad" line width. With this fun 8-color pastel pack, you can use them for marking up documents, color coordinating, bullet journaling, and more.

These pens glide nicely across the page, with the smoothness of a ballpoint pen and the line thickness you might expect from a felt-tip pen. The pen adapts well to different paper types and surfaces, making it extremely versatile. On hard surfaces, this pen writes more finely—like a medium point. On softer surfaces, such as a notebook or notepad, you experience the extra broad lines.
Product Specs

Set of 8

Easel stand

Viscoglide® technology

Extra broad tip

Quick drying ink

Waterproof ink

Made in Germany
Why We Love It
We love the Slider Edge pen because it's a trusty, basic ballpoint pen. It may not sound exciting or impressive, but don't be fooled—this is a great pen to have handy no matter where you go. The easel stand packaging used to store them is one of our favorite things about this set; it makes these super flat, portable and easy to find inside your laptop bag, and even more enjoyable to open up and display the pens. Take one with you on your next road trip for the kids. Stick a few in your office drawer for those occasional color-coordinating projects. Or, keep them in your bag for writing on the go—they'll be perfect for your next masterpiece.