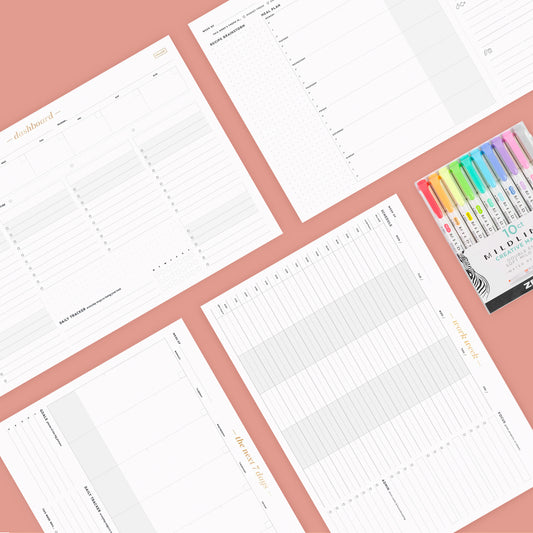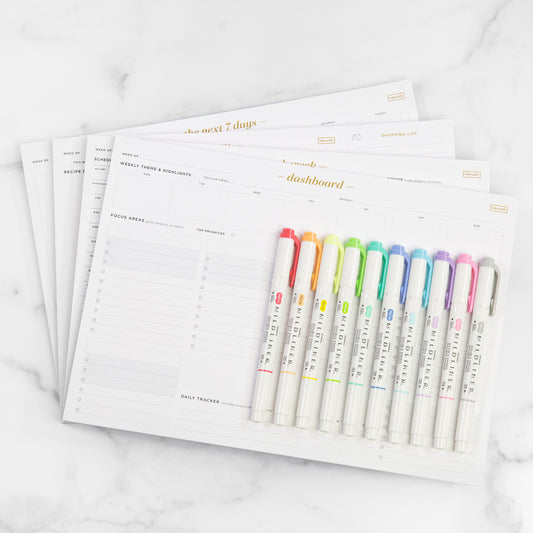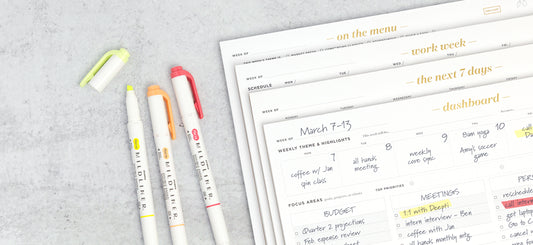 Power Week Deskpad Pack
Description

Planning isn't always one-size-fits-all. Between daily routines, meetings, errands, family, and more, you might need a more customized approach.


Introducing the Ink+Volt Power Week Deskpad Pack. Every job needs the right tools, which is why this bundle includes our four most popular deskpads to adapt to your unique needs each week. 

The Power Week Deskpad Pack includes:

(1) Weekly Pad - your at-a-glance 7-day weekly planner with added functionality of goal setting, habit tracking, and more
(1) Dashboard Pad - organize your work by category like projects, clients, or area
(1) Work Week Pad - great to use for time blocking, appointments, meeting-heavy weeks, or busy family schedules 
(1) Meal Planning Pad - your all-in-one meal planning and shopping list pad 
(1) Zebra Double Ended Mildliner Markers - choose from ten different colors and two different tip widths to color coordinate and organize work across planning tools

From home to work, and everything in between, this power pack has the solutions you need to stay on top of it all. Valued at $107, you can get this set for just $89, while supplies last.
The Story
Who doesn't love variety? This Power Pack allows you to pick and choose which deskpad to use depending on your unique situation or needs when planning your weeks. These weekly pads aren't mutually exclusive, which means you can use them simultaneously or customize your approach to suit your needs for a particular week.