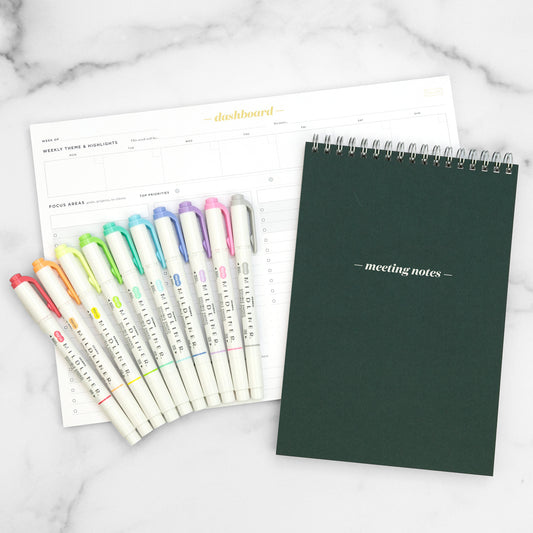 Dashboard + Meeting Notes + Mildliners - Productivity Bundle
Description

Never miss a beat during your busiest work weeks with this power-focus pack.

This carefully curated bundle will be the system that supports you while you make it all happen in your work. It's all about building a strong foundation, so you can do your best work all week long. If your schedule features a variety of projects, clients, and meetings, this is the bundle for you. 

Our bestselling Dashboard Deskpad gets even better when you pair it with one of our most effective organizational tools at a friendly price point. Add in our favorite Zebra Mildliner Markers for color-coding, and you will be amazed at how much you can accomplish in just a week. 

This set includes: 

(1) Dashboard Deskpad - keep your projects, clients, and responsibilities organized with this bestselling deskpad 
(1) Meeting Notes - come prepared to every meeting with this intelligently designed spiral notepad
(1) Zebra Double Ended Mildliner Markers - color coordinate and organize your work with these dual tipped highlighting markers   

Originally $55, you can try this bundle at $51 while supplies last.
The Story
Some days you just need a little organizational help. Thanks to this trio, you'll be on top of every meeting and every project without missing a beat. Use the Meeting Notes pad to efficiently record the most important points, and the Dashboard pad to stay on top of your busy, complex week.