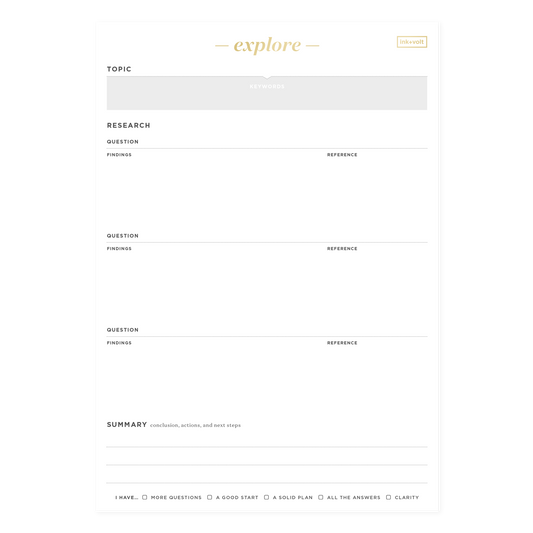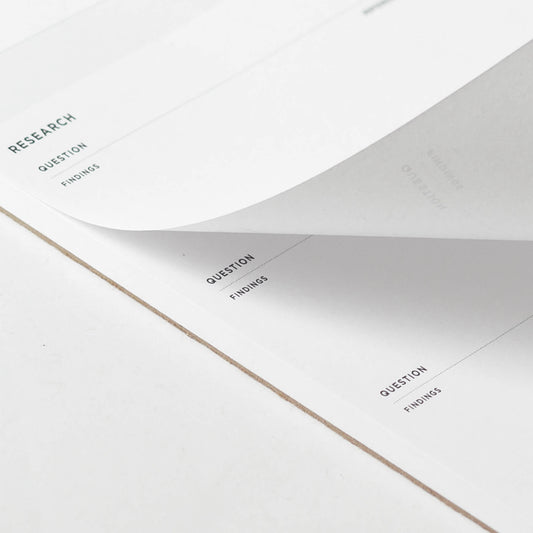 Explore Pad
Description

What does a written research process do that simple internet searches don't? Internet research can get out of hand quickly – it can result in dozens of open tabs, different links and sources, and rabbit holes. Without a focus on the questions you are trying to answer, the process can get overwhelmingly fast.

Whether you're full of curiosity or have unanswered questions about an upcoming project, the Ink+Volt Explore Pad helps you follow a clear path to get the answers you need so you can move forward.

Studies show that you have better retention and comprehension if you write things down. The Research Pad outlines a simple and streamlined research process so you can explore different topics, learn new things, and draw conclusions. Once you've established a topic and related keywords you might use to research, outline your questions, findings, and resources. Use what you found to summarize and conclude your research, and set the next steps or action items to move forward.


Proudly made in the USA. 
Product Specs

5 3/4" x 8 1/2"

50 sheets

70# quality paper

Incredibly functional

Made in USA
The Story
When it comes to trying to find out more about what you don't know, there's a lot of information out there. Sometimes there is simply too much information, and it can be challenging to find exactly what you need and come to a good conclusion. We created the Ink+Volt Research Pad to help you focus your questions and curiosities, so you can move forward with your newfound knowledge and act with confidence.