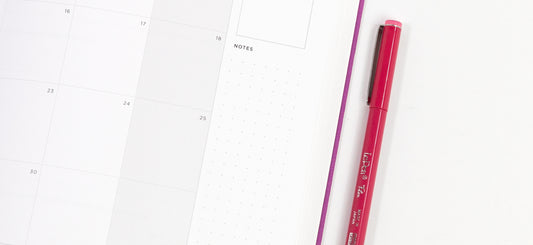 Le Pen Flex - Pastel 6-pack
Description

If you've always admired beautiful brush lettering and wish you could learn to do it yourself, the Le Pen Flex is a great starter pen.

The Le Pen Flex comes with a durable, flexible rubberized brush tip that is perfect for hand lettering, journals, planners, and much more. There's nothing overly fancy or difficult about this pen–it's very light and easy to use. The flexible tip guides you into the curves of each letter, and lets you control each stroke. 

If you're more experienced with hand lettering, you'll be pleasantly surprised by the things you can do with this pen too, like blending colors and creating watercolor effects. These simple pens pack a punch, no matter how you use them! This pastel set offers softer tones that are still vibrant. 
Product Specs

Set of 6

Flexible rubberized brush tip

Acid free and non-toxic ink

Smudge free

Made in Japan
Why We Love It
Since the classic Le Pen is one of Kate's favorite pens, we knew we had to try out the new Le Pen Flex. It takes the simplicity and clean writing of the classic Le Pen, and adds a bit of flair and bounce with its rubberized tip. We love how it lends a pop of color and curve to a handwritten note or greeting card.