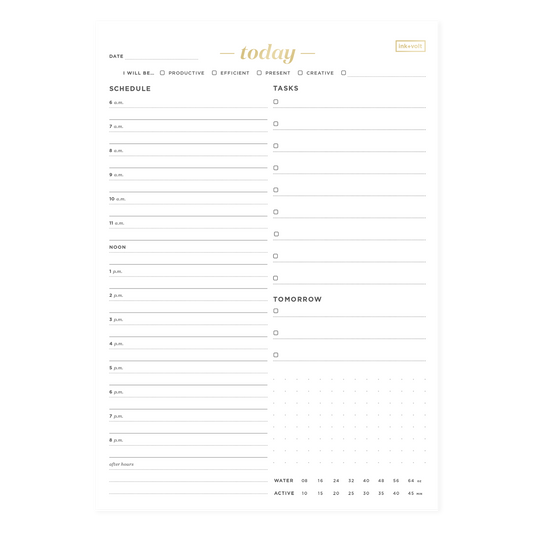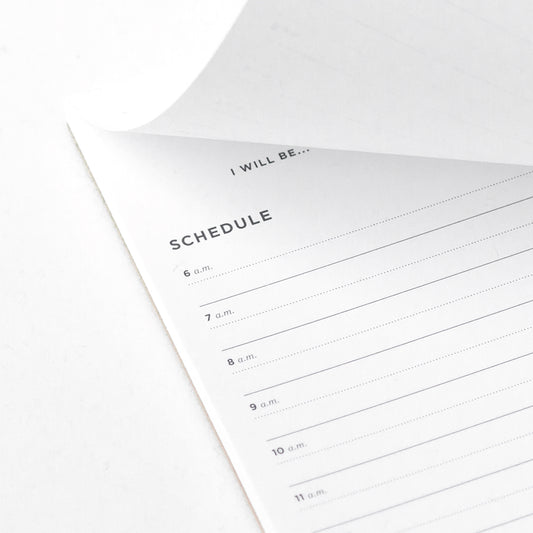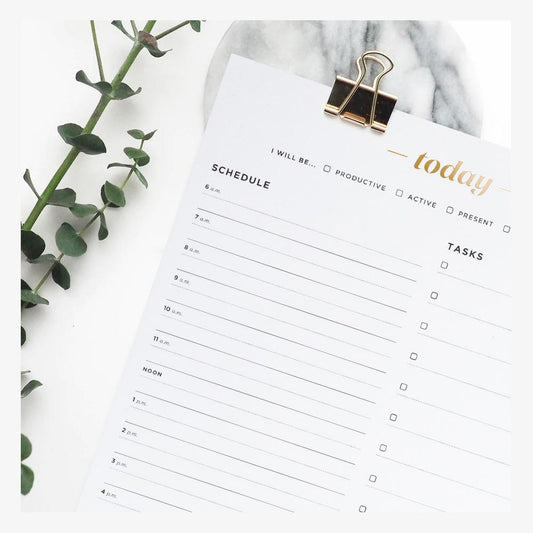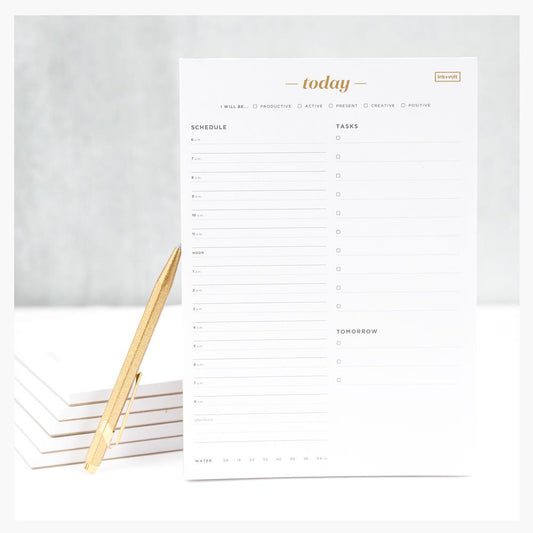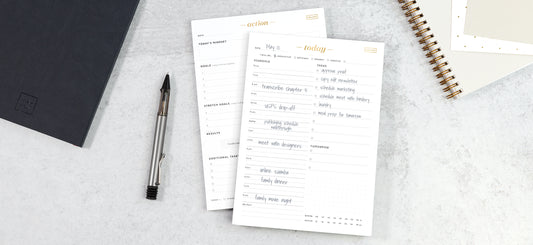 "My to-do lists have never looked better 😍 —Erica T."
Today Organizer Pad
Description

The world's most successful people start every day with a plan. Our ability to make smart choices wears down over the course of the day, so why not set yourself up for success every morning with a streamlined planning tool that tells you exactly where you need to focus today?

Introducing the Ink+Volt Today Organizer Pad. This at-a-glance daily hourly planner notepad will help you maximize your daily productivity by helping you visualize what is most important. The Today Organizer features hourly time blocks to manage your schedule, a task checklist to organize your important to-dos, and a "tomorrow" section for future tasks. And of course it's important to stay hydrated and active throughout the day, which is why this pad includes a water intake and activity tracker. 

See how much more you could accomplish every day by taking control of your time. Your time is your most valuable resource. Reclaim it by making this smart planning pad a part of your morning ritual.

Proudly made in the USA.
Product Specs

5 3/4" x 8 1/2"

50 sheets

70# quality paper

Incredibly functional

Made in USA
The Story
There is no doubt that your time is valuable. When it comes down to it, accomplishing your goals is all about the micro-steps that you take every day that help you get there. That's why we created the Today Organizer Pad–it's the ultimate tool to outline what matters most today. By having a realistic expectation and plan for your day ahead, you can get more done, meet your deadlines, and stay organized. We've tested lots of different variations of this pad, and settled on the version that captured all of the important aspects of your day. What you do today–everything that happens from the minute you wake up to the minute you rest your head on the pillow matters. 

Benjamin Franklin used to wake up at 4:00 every morning to plan his day. His philosophy was that careful planning pays dividends in the long run. When you know exactly what needs to get done, you are so much more likely to be able to do it. Little by little, progress every single day.