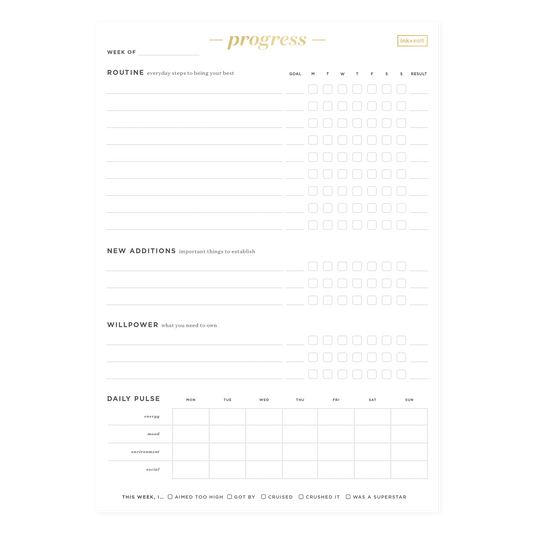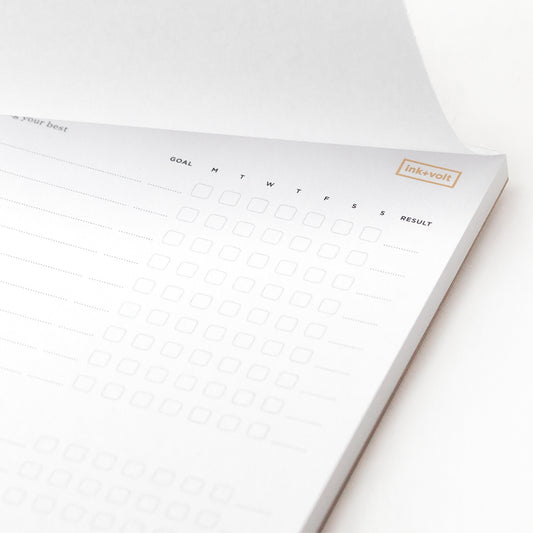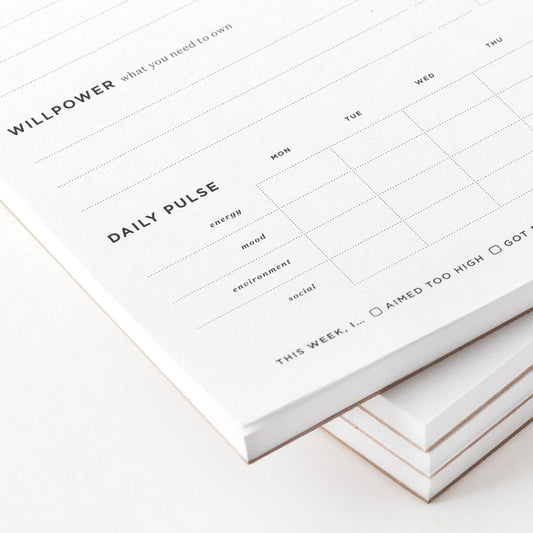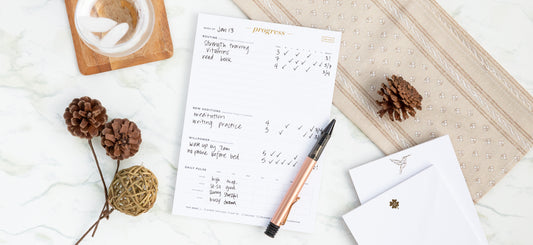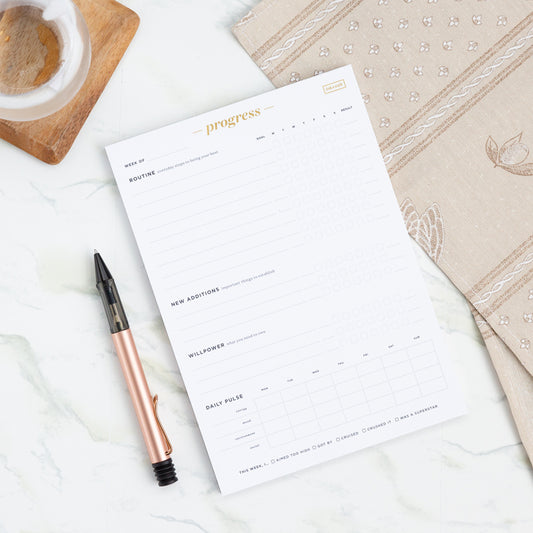 Progress Pad
Description

When it comes to reaching your goals, it's the small steps you take every day that help you get there. Forward progress, even if it's just one day at a time, is the key to success.


The Ink+Volt Progress Pad is the ultimate tool for tracking your habits, new and old, and inspiring consistent progress toward your goals. The pad features a 7-day log that allows you to track everything from the routine to-dos to new and more challenging activities, behaviors, or practices you want to establish and strengthen, or stop.

Whether you want to launch a business, track your exercise, or begin a meditation practice, you'll start each week by setting a target goal for how many times you'll take action. Compare your results at the end of the week to gauge your progress, and use this pad weekly to make small adjustments towards success. Make sure everything you need to do on a daily basis is in a single view so that even the most mundane and easily forgotten tasks aren't missed–like taking your vitamins, walking the dog, or getting the mail. 

This notepad also features a "daily pulse" tracker where you can log your energy, mood, environment, and social surroundings. By tracking these daily, you'll get a snapshot of how you felt each week — powerful information you can use to make changes, strive to improve, or maintain greatness.

Success doesn't come overnight, but is a result of small steps. The Progress Pad is your tool to grow, aim high, and dream big. 

Proudly made in the USA. 
Product Specs

5 3/4" x 8 1/2"

50 sheets

70# quality paper

Incredibly functional

Made in the USA
The Story
Whether you're working on maintaining your routine or adding new habits into the mix, consistency is important. Days turn into weeks, which turn into months, which turn into years, so we strongly believe that the micro steps you take each day are the building blocks to success. And we *know* that you're more likely to accomplish your goals if you write them down and keep track of them. From small, routine habits like drinking enough water to bigger, more challenging goals like healthier eating, this pad will help you track your progress and encourage you to maintain good habits. By tracking your habits daily and weekly, you'll start to notice trends in your behavior that can help you improve, make changes, and grow. Week after week, you'll notice — and be able to celebrate — significant progress, all of which is helping you get that much closer to your biggest goals.