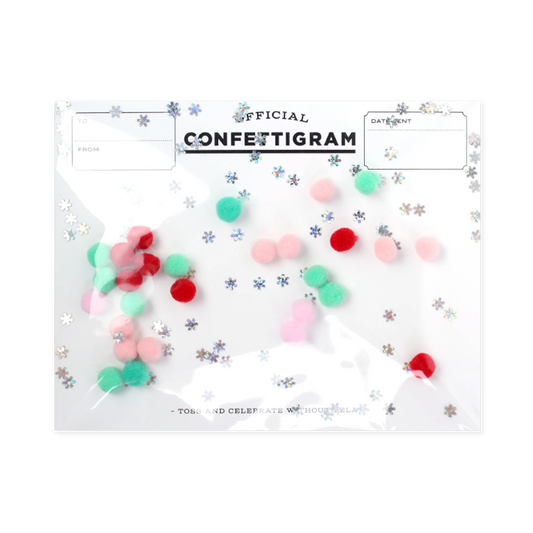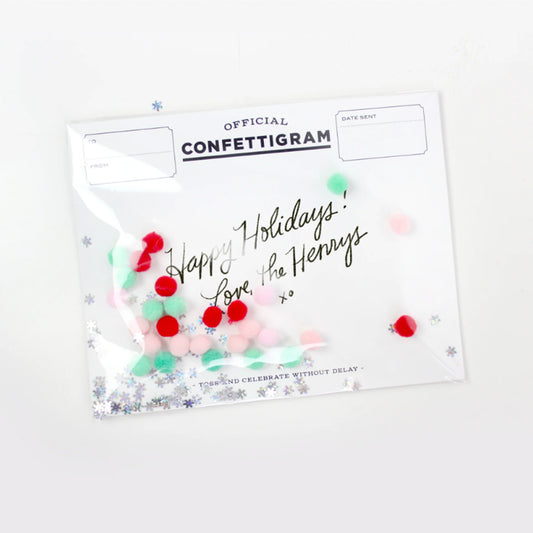 Confettigram™ Card - Christmas Pom Poms
Description

Celebrate the holiday season with some festive confetti! 

This "Confettigram" is packed full of holiday fun. This clear envelope contains a folded card with hand-mixed confetti that floats around your message. This Christmas Pom Pom theme will send a party directly to their mailbox, full of brightly colored pom poms and hand-cut shiny snowflake confetti. 

Here's how it works: 

Remove the card and confetti with care, and set the clear envelope aside (you'll need this to mail it!)
Write your message on the front, add a longer message on the inside, and address the back. 
Put your card back in the envelope and pour the confetti over your message. Be sure to keep the address side clear of confetti! 

Add a stamp to the back side and toss it in the mail. 
Product Specs

4 1/4" x 5 1/2"

Blank interior

Hand-cut confetti

Made in the USA
Why We Love It
The sparkly confetti makes checking the mail feel like actual Christmas magic. It will be the brightest thing in the mailbox, and is even more fun to open with your personalized message inside.